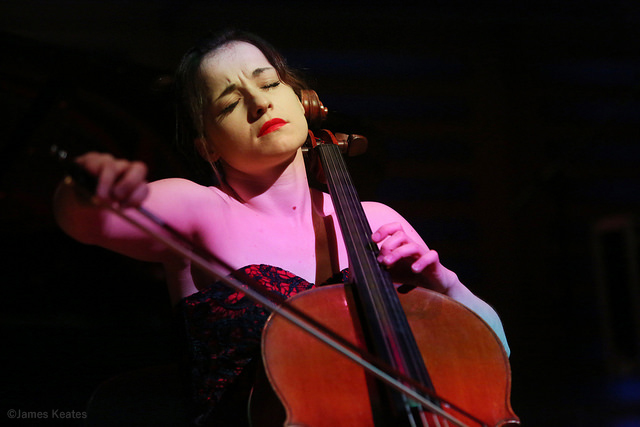 Urška Horvat is a young Slovenian cellist. She finished Postgraduate Artist Diploma in 2016 with Distinction and Director's Prize for Excellence in Strings at Trinity Laban Conservatoire of Music and Dance with internationally renowned cellist David Cohen.
Urška has worked with other great musicians such as Rick Stotijn, Ofer Falk, William Hagen, Lana Trotovšek, Valery Gergiev, Enrico Bronzi, Maria Kliegel, Jean-Guihen Queyras, Natalie Clein. She is the recipient of numerous awards and prizes from national and international competitions: 1st prize at the Music Club of London Competition 2017, Live Music Now 2017 supported by Yehudi Menuhin, Concordia Foundation 2017, 1st prize at the Soloists' Competition 2016, 1st prize at the Leonard Smith and Felicity Young Competition2016, 1st prize at the Vera Kantrovitch Bach Competition 2015, TEMSIG national competition (Slovenia), Wettbewerb fur Violoncello Liezen (Austria), Young International Janigro Competition (Croatia).
She has performed in Great Britain, Germany, Austria, Switzerland, Belgium, France, Slovenia, Croatia and Turkey, both as a soloist and in various chamber ensembles and orchestras. Urška has appeared in venues including the Wigmore Hall, St. Martin in the Fields, St. James's Piccadilly, Cadogan Hall, King's Place, St. John's Smith Square, Southbank Centre, Flagey (Belgium), Konzerthaus Berlin.
Urška has been invited as a soloist and a chamber musician to participate in various festivals, such as Trondheim Chamber Music Festival (Norway), Borough New Music (London), Davos Festival (Switzerland), Les Sons Intensifs (Lessines, Belgium), Seeklang Hergiswil (Switzerland), "I Giardini della Filarmonica" in Rome, Festival "Côté Cour, Côté Jardin" (Belgium), Virenze Concerts Series (Netherlands), Glasbena mladina Ljubljanska (Ljubljana, Slovenia), Festival Lent (Maribor, Slovenia).
She has recently become a member of Avant Piano Trio with whom they were selected as one of the four ensembles for prestigious Trondheim Chamber Music Academy in Norway in September 2018. They were also invited as Musicians in Residence for the Indian October Festival 2018, which took placeall around India in a three week period consisting of concerts and masterclasses.
She is a member of YES Camerata (a Young European String Camerata), and a founder, with pianist Francesca Fierro and violinist Andrea Montalbano, of Tamesis Piano Trio, which has been awarded 2nd prize at TIM International Competition 2016, has been selected to play in the semifinal of St. Martin in the Fields Competition and became part of The Richard Carne mentorship programme at Trinity Laban. Urška is also playing in a cello duo, Duo Furioso with another young Slovenian cellist, Helena Švigelj. They performed in festivals in the UK, Belgium and Slovenia.
Among other performances, she appeared in a duo with accordionist Klemen Leben with whom she played German contemporary music in very successful concerts in Germany (Weimar, Dresden, Halle, Leipzig…).
Urška was also a member of a piano trio Amarilis (2008-2015) with whom she has received many rave reviews for their artistic pursuits and awards, including Prešeren Award of the Faculty of Music Ljubljana in the year 2011/12.
In June 2016 she performed Dvořák's Cello Concerto with Trinity Laban Symphony Orchestra at Cadogan Hall. After she was invited to play the concerto again with London Euphonia Orchestra.
She is playing on the ex-Pergamenschikow Montagnana copy made by Robin Aitchison in 2019.